Sancton Wood School in Cambridge has partnered with Cambridge United Football Club to launch a pastoral support initiative for boys and their fathers.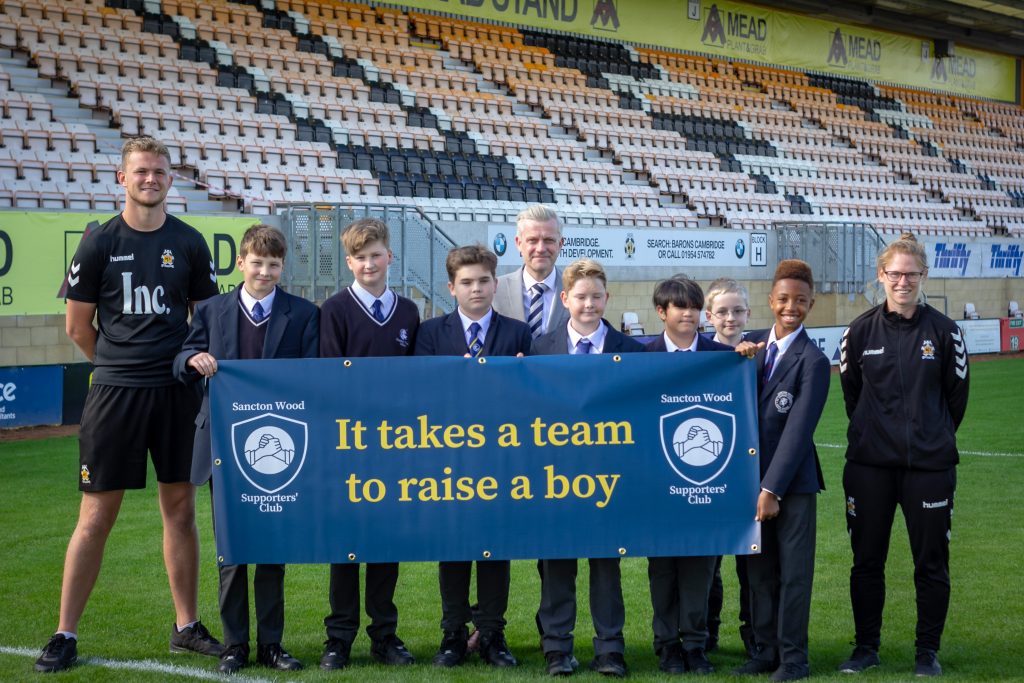 Sancton Wood Supporters' Club is a full programme aimed at helping parents support their teenage children, with a particular focus on fathers and their sons in Years 7, 8 and 9.
The programme covers a range of parenting issues but has a particular focus on the wellbeing of boys and how they can best be supported as they grow up in the modern world. It includes an exciting range of activities and events, all aimed at improving self-esteem and helping parents support the growth of their children.
Sancton Wood has collaborated with Cambridge United Football Club (CUFC) to develop a PSHE programme for boys, a series of talks for their parents and some match day events for fathers and sons. A 'lads and dads' residential will take place in the summer term 2022.The PSHE lessons will be delivered by CUFC at Sancton Wood as part of their collaborative 'Mind Your Head' programme. Topics covered with students will include, Banter and Bullying, Social Media and Self-Image, The Benefits of Opening Up and Non-Violent Communication.
Parenting Talks will be hosted by Sancton Wood and open to all. They will be delivered by trained family therapists on topics such as, 'What does your boy need from you' – a focus on the changing teenage mind and body; Sex and Relationships; Becoming the Referee – setting successful boundaries as a parent, and Teenage Friendships.
The Match Day Series will include several match-day experiences for senior boys and their parents at Cambridge United FC.  As part of the Supporters' Club programme, each event will include pre-match lunch, followed by a talk on parenting from a positive male role model in the Sancton Wood family and then tickets to the match for all.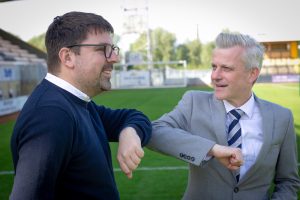 Richard Settle, Principal, said: "I am delighted to launch Sancton Wood Supporters' Club. Our school already has an outstanding reputation for personalised pastoral care but we wanted to do more for some of the boys in our school. #MeToo and Everyone's Invited has shone a spotlight on the challenges teenage girls face and we want to be sure that vulnerable boys get the support they need, too. We wanted to build on our existing relationship with CUFC and take a more involved, therapeutic approach to the pastoral care of boys which includes their parents and other positive role models. We have always believed that our responsibility to our pupils doesn't end at the school gates and have developed an initiative for the whole family that will really support parents, and fathers in particular, as they raise their teenage boys."
Neil Rowe, Head of Commercial at Cambridge United Football Club, said: "Cambridge United Football Club and our Community Trust are pleased to be working with Sancton Wood on their Supporters' Club initiative, bringing together the importance of talking about mental health and using a community as a support network – in this case for fathers and sons. Supporting a team and attending football games is far more than just watching the 90-minute game on a Saturday, we as a Club recognise that, therefore we want to use the platform we have to promote taking care of our own, and each other's, mental and physical health in the wider community."