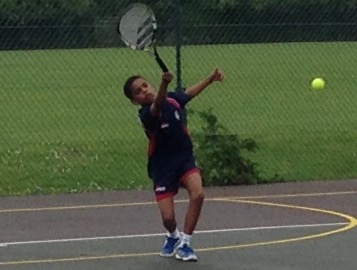 We travelled north to The Peterborough School and after stopping off at the hospital and a short detour we arrived (sat nav issues).
The boys were in high spirits and they quickly got warmed up on two of the six grass courts, soon after that we moved over to the three hard courts and started.
Omulo (1) and Fraser (2) paired up to play their doubles game first and quickly won 6-0, although the score was one sided the boys did not have it all their on way and were made to work hard for every point and game but they were clearly better on the day.
Meanwhile Brandon (3) played his single's game and again we won that 6-4 but the same as before Brandon was worked hard for his win.
Also Reza (4) played his single's match and this was a much closer affair but again Sancton Wood came out on top 6-2.
Omulo then played his Single's game and never let up in this set and comfortable won 6-0
Fraser followed suit and out played his opponent to win 6-0
Brandon and Reza teamed up to play the final match and this was a much closer affair, nobody could make a clean break. The scores remained level all the way to 6-6, so a tie-break was played. This was close with both pairs refusing to lose with some fantastic rally's and match winning shots Brandon and Reza won the tie-break 20-18; to seal a 6-0 victory.
All 4 boys played really well but special credit goes to Brandon and Reza on an epic tie break win.