We had a fantastic event we had at school yesterday with the Bake sale and the Show Stopper competition.
A huge thank you to all our students and parents for your wonderful and very delicious donations.
The wonderful show stoppers were particularly exceptional this year and well done and thank you to all entries, who have all received 10 house points.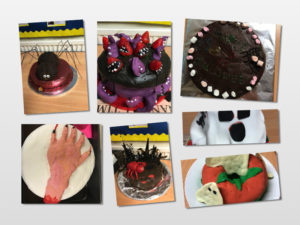 The top three were judged by our talented in-house bakers and results are as follows.
In 3rd place was Gracie's amputated limb. Achieving 25 points for the Griffin house
In 2nd place was Cara's Red velvet spider cake. Achieving 50 points for Dragon House.
In 1st place was the Incredible purple oozing octopus cake. Achieving 100 points to Phoenix house.
The total amount raised for The African Schools Charity was £316.06
Phoenix £118.51
Dragon £102.20
Griffin £95.35
Well done to everyone and a huge congratulations to the Phoenix house.