Year 11 students at Sancton Wood School received some outstanding news today when they opened their GCSE results. A cohort of 30 students sat GCSEs and IGCSEs over a range of 14 subjects. Overall, 97% of students achieved five or more GCSEs graded 4-9.  This is an increase of 12 percent on last year's results.
Almost half of these results were in the top 7, 8 and 9 grades (the equivalent of the old A and above). One student, James achieved 13 GCSEs, all at the top of the scale, with seven of them being grade 9.
As ever, there were a small number of students from Years 9 and 10 sitting GCSEs early, these students all achieved grade 9s. Students for whom English is their second language achieved GCSEs with remarkable top grades.  Rasmus is a fantastic example, of 11 GCSEs, 10 were graded 7-9.   Some students who faced very difficult times during their GCSE years have triumphed and those who have been nurtured at Sancton Wood from their early years have performed particularly well.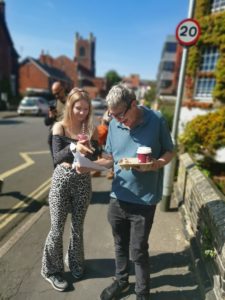 Head Boy, Tom was ecstatic,
"Sancton Wood has been fantastic for all of us.  The teachers believe in us, allow us to thrive and develop our strengths.  The small class sizes mean we get to know each other really well and the teachers make sure we get all the support we need in the best way possible.  I am so pleased with my results and am confident I achieved them because of the great experience I have had at Sancton Wood."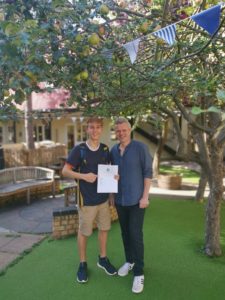 This is the first year that students have submitted projects for the Higher Project Qualifications, a qualification the school was keen to introduce as it offers opportunity for real life learning skills, such as independent research, personal reflection, editing and presentation skills.  The remarkable results saw 100% of students achieving A and A*.
School Principal, Richard Settle said,
"I am particularly proud of this year's results. It is an impressive outcome in a non-selective, mixed ability school and a vindication of the school's belief that by providing outstanding pastoral care pupils will thrive and achieve great results. We continue to be motivated by the huge difference between expected grades given to students when they arrive at Sancton Wood in year 7 compared to the actual results they achieve".
The unique, family-orientated environment that Sancton Wood creates, allows for the early identification of not only strengths to be nurtured but areas pupils find challenging which can be addressed with tailored support. This is key to their academic success, especially in Cambridge where many other independent schools' admissions are based on existing academic ability.